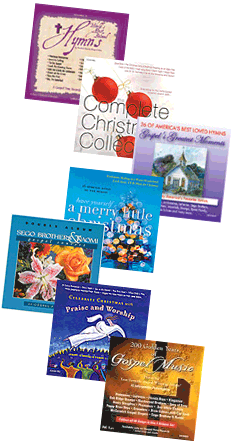 Founded in 1974 by record executive, Cecil Scaife,
Music Incorporated
remains one of the strongest independent record label in Nashville. Using the Songs of Faith label as its platform,
Music Incorporated
has expanded its catalog to include one of the largest privately held Christmas music catalogs in the country. And in 1999, the company established its book imprint,
Specialty Music, Inc.
, and released the first in a series of children's book and tape products.
Music Incorporated
is still the #1 producer of new budget Christmas music in America today. The three Christmas labels,
Halo
,
Classic Christmas
and
Hidden Stars
, cover the gamut of musical tastes ranging from traditional sing along melodies, such as Jingle Bells and Rudolph the Red Nosed Reindeer, to carols of the season, like Silent Night and Away in a Manger. The holiday roster includes pop favorites, such as, Rockin' Around the Christmas Tree, Little Drummer Boy and White Christmas. With all-star performances by The Jordanaires, The William Loose Orchestra and the Cathedral Choir, there is truly something for everyone.
The
Gospel Time
label features a virtual Who's Who of America's most loved Southern White Gospel groups performing such evergreen titles as Jesus Loves Me, Amazing Grace, How Great Thou Art and Softy and Tenderly. Wally Flower and the Oak Ridge Quartet, Jake Hess and the Jordanaires, J.D. Sumner and the Stamps, The Imperials, The Speer Family and The Blackwood Brothers are among the Gospel Music Association's newest inductees featured in this treasured collection of hymns and religious melodies.
Specialty Music, Inc.
, is the imprint used for the children's book and tape catalog. It's first release,
ROAD TRIP SURVIVAL KIT
, has been well received the book and music industry, as well as, the educational community. The 24 page colorfully illustrated book comes with a cassette filled with children's favorite fun songs and stories that can be enjoyed by kids and adults alike. The book features sign language, maps, mazes and brainteasers, plus, assorted matching games designed for children 3-7. The other two books in the series are themed for Christmas and Easter. All titles come in two formats: wire-o bound with extra sturdy stock and a pocket for the cassette on the front cover; and, standard blister pack.
Music Incorporated
offers full distribution services across the continental United States for all of its music and book products. Merchandising and point of purchase displays are available, as well as, special services, such as, drop shipping, labeling and prepacking.
In 2005
Music Incorporated
was purchased by the
Van Heusen Music Company
. A family owned music publishing company with songs by the former great composer Jimmy Van Heusen.(Four Academy Awards). Van Heusen Music is headed up by Don Babcock , Brook and Kit Babcock, Tina Miles.